Adult Swimming Lessons Singapore
Adult Swimming Lessons Singapore
Adult Swimming Lessons Singapore – Swimming classes for adults in Singapore has been described as the perfect exercise. You can get the benefits of an aerobic workout without any damaging impact on joints. Swimming improves flexibility and strength, builds up endurance, increases muscle flexibility and helps to maintain a healthy heart and lungs. It is never too late to learn to swim!
Start your swimming journey with Swim Best Swim School today!
Progression Chart – Adult Swimming Class Singapore
Beginner Level
Focus on basic water skills
Basic water skill like floating and breathing
Swim a basic stroke. (Freestyle or Breaststroke)
Approximate course duration = 1 to 2 terms (12 to 24 lessons)
Intermediate Level
Perform drills to prepare for swimming longer distances.
Stroke correction for freestyle and breaststroke
Threading water and diving
Approximate course duration = 1 to 2 terms (12 to 24 lessons)
Advance Level
Students will swim gracefully for longer distances at this stage.
Perform drills to ensure proficiency in the strokes learned.
Stroke correction and streamline
Build up stamina and endurance
Backstroke and Butterfly
Approximate course duration = 1 to 2 terms (12 to 24 lessons)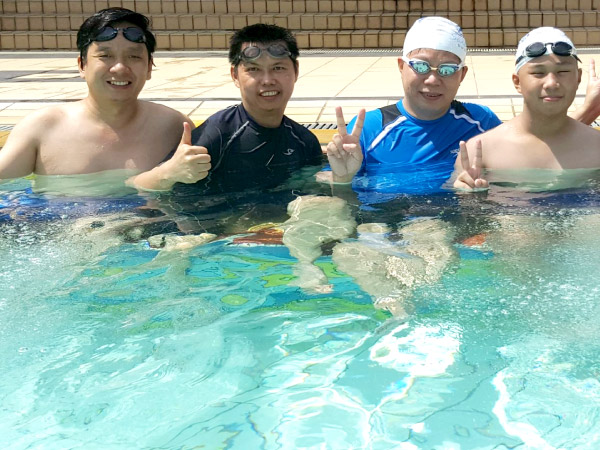 Jurong West & Bukit Batok Swimming Complex
What if I would like to enroll my swimming lessons at another swimming complex?
We can make the arrangement at no cost to you.
For private lessons, you are entitle to 5% discount for the first month fee.
Our affiliated swimming coaches and swimming schools conduct group and private swimming classes for adult at Swimming Complexes and Condo pool in Singapore. Instructors are certified by National Registry of Coach (NROC) and registered with Sport Singapore, AUSTSWIM and the Singapore Swimming Teachers' Association (SSTA).